Welcome to Avis

Rent a car in Hamburg
Our Hamburg car hire services can be easily located at the main international airport, Flughafen Hamburg, the central train station and several other convenient posts in Germany's second largest city. Wherever you arrive in Hamburg, our team is waiting to check you in quickly and efficiently, so you can join the country's immaculately maintained Autobahn in no time.

A busy, sheltered port city that straddles the mighty Elbe River, with the man-made Binnenalster lake carving out its core, Hamburg is a city blessed with scenic watery views. With 18 million visitors arriving in the city on business and pleasure each year, there's plenty to entertain during a trip to this lively corner of north Germany.

Heading on a one-way journey? Make the most of our flexible return options, which enable you to collect your hire car in Hamburg and drop it off at a different location at the end of your trip. Each of our Avis car rental offices in Hamburg offers a 24-hour drop-off, ensuring your departure is as smooth as your arrival.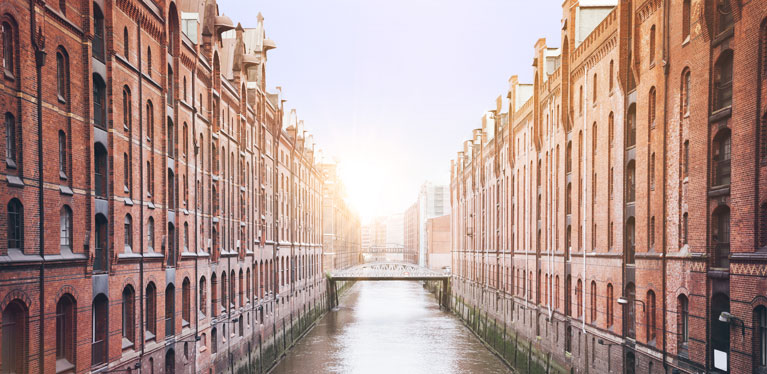 Exploring Hamburg
Nicknamed Tor zur Welt (Gateway to the World) due to its strategic proximity to the North Sea, this energetic metropolis has been welcoming merchants, sailors and travellers since the Middle Ages. A testimony to Hamburg's history as a profitable international trading zone, its 19th-century UNESCO Speicherstadt is the world's largest complex of industrial warehouses, spanning 260,000m2.
The affluent maritime hub is revered for its 1920s Brick Expressionist architecture and—since 2017—its colossal Elbphilharmonie concert hall. Instantly recognisable for its wave-like glass façade, it's one of the most acoustically advanced venues in the world and offers a seriously cutting-edge line-up of performances.
Roughly 2,500 bridges traverse the canals and waterways threading through the city, and kayaking, sailing and wakeboarding are all popular activities. If urban pastimes are more your thing, head to Saturday's bustling Flohschanze flea market and haggle for bric-a-brac. There's more retail therapy at Mönckebergstrasse, a parade of boutiques ranging from high-street to high-end. After dark, explore the clubs and cabarets along buzzing Reeperbahn. If you've partied the night away—easily done in Hamburg—grab a breakfast sausage sandwich at Hamburg Fish Market at dawn.
Beyond Hamburg
The city is well-connected to several other of north Germany's strongholds. Less crowded Bremen is a 90-minute drive to the southeast and notable for its ornate Gothic town hall and neighbouring St. Peter's Cathedral, sphered by two striking turrets and pitted with mysterious cellar crypts.
Schwerin—nicknamed the City of Seven Lakes—is around 60 miles from Hamburg via the A24 and is yet another remarkable destination to lure culture buffs. Visit 19th-century Schwerin Castle, a fairytale schloss of neo-Renaissance origins constructed on an island in the city's Lake Schwerin. Schwerin Mueß is a village-turned-museum, comprising thatched farmhouses, flourishing fruit gardens and an old village school, which offers a fascinating glimpse into rural 19th-century daily life.
Further northeast, enter the imposing, medieval red brick city gate of Lübeck. An ancient Hanseatic city of UNESCO World Heritage status, it's a prime example of traditional Brick Gothic architecture.
With so many historic towns and villages to explore, rent a car with Avis in Hamburg and make the most of this scenic portion of north Germany.
Why choose Avis for your Hamburg car hire?
Fully flexible
Enjoy fee-free flexible booking with full cash refunds and no vouchers.

Savings on coverage
When you choose Avis Inclusive you can experience total peace of mind with no extras or surprises. Pay one upfront price for free Roadside Assistance Plus and 25% discount on comprehensive zero-excess cover.

Loyalty benefits
Join our free loyalty programme Avis Preferred, and benefit from priority service, discounts and more.
Safety first
From our well-maintained fleet to protecting your data, we take safety seriously. That's why we've partnered with Dettol® to ensure both hygienic rental locations and thoroughly cleaned vehicles.

Faster collection
Save time at the counter by registering your details in advance with our simple and free QuickPass. You could be on the road sooner than you think.

VIP treatment
Get priority counter service on collection with Avis Preferred. At our larger locations you can use our Avis app to go straight to your car where the keys will be waiting for you.