Welcome to Avis
Gare De Strasbourg
Place De La Gare
Strasbourg
67000

Opening Times
Monday

08:00 - 20:00

Tuesday

08:00 - 20:00

Wednesday

08:00 - 20:00

Thursday

08:00 - 20:00

Friday

08:00 - 20:00

Saturday

09:00 - 13:00

Sunday

Closed
24-hour drop-off

Find your perfect car hire at Strasbourg Train Station
Strasbourg is a small French town with plenty of German influence. With its medieval architecture, winding streets and timber houses, visiting Strasbourg is akin to entering a fairy tale. Grab your Avis hire car at the Strasbourg Train Station and start exploring.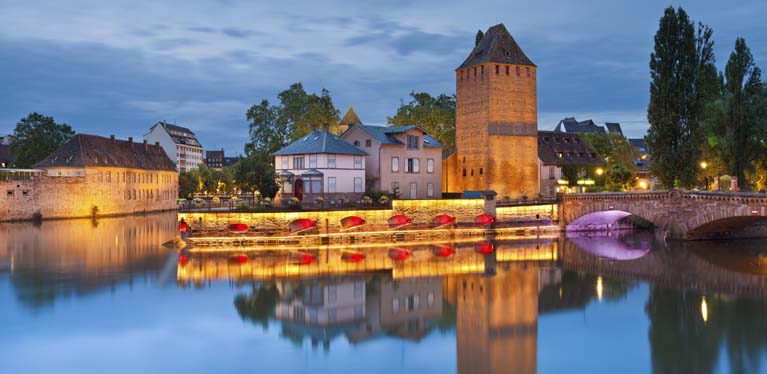 Plan your journey from Strasbourg Train Station
Drive for 10 minutes via the Boulevard de Lyon from Strasbourg Train Station, and you'll reach the centre of Strasbourg itself. The capital of the Alsace region, this city walks a fine line between Germany and France.

The picturesque Petite France Quarter is a great place to start your visit - once home to fishermen, millers, and tanners. Here you'll see perfect examples of half-timbered houses dating back to the 16th century. The gothic Notre Dame cathedral is also found here, with its impressive 142-metre spire. You can tour the cathedral at your leisure.

When it comes to museums, Strasbourg has plenty. The new Modern and Contemporary Art Museum has an enormous collection of paintings and sculptures and the Oeuvre Notre-Dame Museum is home to the finest collection of medieval works in France (and is located at the cathedral). For more historical landmarks, the 18th century baroque Palais Rohan is a must-see.

When it comes to shopping, boutiques and markets abound. Check out the flea market in the Place de l'Hôpital, or the farmers' market on Place du Marche aux Poissons.

If you're ready to spend time in Strasbourg, your Avis car rental will help you get the most out of your stay.

Frequent renters get upgraded – and additional days for free – by signing up for Avis Preferred loyalty benefits. Simply choose a date and time and we'll prepare your quality hire car.

Beyond Strasbourg
Castles, tiny villages with canals, and beautiful nature parks are all within easy reach of Strasbourg.

Colmar
You'll find Colmar just 50 minutes from Strasbourg – just take the A35. This is one of the most popular towns in the Alsace region, and is known as 'Little Venice' thanks to its canals and bridges laden with flowers. It's also the birthplace of Frédéric-Auguste Bartholdi, the French sculptor who created the Statue of Liberty, and there is a museum devoted to him here.

Haut-Koenigsbourg Castle
Long the centre of European conflicts and rivalry between nobility, it's not surprising that the Alsace region has more castles than anywhere else in Europe. There are over 400, and if there's one must-see, it's the Château du Haut-Koenigsbourg, located 45 minutes from Strasbourg via the A35. Spend some time exploring this medieval fortress restored in the early 20th century.

Northern Vosges Regional Nature Park
The Northern Vosges Regional Nature Park is located 55 minutes from Strasbourg via the A4. With sandstone crusts eroded into unusual formations resembling towers, mushrooms, or arches, and more than 60 percent of the park covered in forest, it is a wonderful day out for the whole family and exceptional for hiking.

To see all that the Alsace region of France has to offer, all you have to do is drive.


Driving rules in France
Which side of the road?
In France, please drive on the right side of the road.

Country driving laws
Mobile phones may only be used with a hands-free device. Do not use headphones or earpieces
Bus lanes are reserved exclusively for buses, taxis and bicycles
In towns and rural areas, on minor roads and where there is no clear indication of right of way, it may be prudent to give way to traffic coming from the right ("priorité a droite")
It is recommended that drivers use dipped headlights at all times

Speed limits

All speed signs will be in km/h.

For a standard Avis rental vehicle with no trailer:
Urban areas: 50 km/h (31 mph)
4-lane expressways (rural areas): 110 km/h (68 mph)
Rural areas: 80 km/h (50 mph)
Motorways: 130 km/h (80 mph)

Unless indicated by road signs.

Be aware of changes to speed limits displayed on road signs due to adverse weather conditions

Child safety / Seatbelt laws
It is compulsory for the driver and all passengers to wear a seatbelt
Children weighing up to 9 kg must travel in a rear-facing car seat, in the back of the car only
Children aged under 10 and weighing less than 36kg must be seated in appropriate child restraint

Please note - It is the child's parent / guardian or vehicle renter's responsibility to fit the child seat.

This road rules information is for provided for general guidance only. We endeavour to keep the information up to date and accurate, but any reliance you place on this information is at your own risk.