Welcome to Avis
31 Bd Voltaire

Marseille
13001

Opening Times
Monday

08:00 - 21:00

Tuesday

08:00 - 21:00

Wednesday

08:00 - 21:00

Thursday

08:00 - 21:00

Friday

08:00 - 22:00

Saturday

09:00 - 18:30

Sunday

10:00 - 20:00
24-hour drop-off

Find your perfect car hire at Marseille Saint Charles Train Station
Marseille is an important port in the Mediterranean and the second largest city in France. With its strong maritime heritage evident at every turn, this vibrant city is bursting with history.

Arranging car hire from Marseille Saint Charles Train Station couldn't be easier with Avis. The moment you collect the keys you're free to start your road trip around this fascinating French city and its surrounding region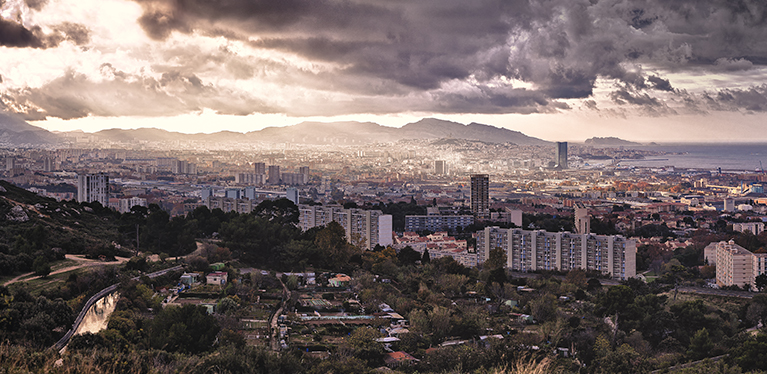 Plan your journey from Marseille Saint Charles Train Station
Marseille Saint Charles Train Station is perched on a small hill in the centre of the city. From here, it's possible to reach all of the city's main sights within minutes. All you need to do is drive.

A great place to start exploring Marseille is the old town neighbourhood of Panier. It was here that the Greeks founded the city in 600 BC, making it one of the oldest settlements in Europe. Look out for Vieille Charité (a former alms house) planted in the centre of this neighbourhood. Today it's a cultural hub, home to the Museum of Mediterranean Archaeology.

Le Cours Julien is the young and trendy part of Marseille, brimming with independent cafes, bookshops and great vintage shops. It's here you'll also find the Plaine Market, every Thursday and Saturday, with a flower market on Wednesday. Stop by to find a mix of fruit, vegetables, cheese, fish, clothing and delicious takeaway dishes like paella.

No trip to France is complete without feasting on sweet pastries. Fortunately Marseille is home to many great patisseries. Located on a small backstreet, Patisserie Sylvain Depuichaffray is regarded as the best patisserie in the city by locals, so it must be worth a visit. Be sure to sample classic items such as macaroons, meringues and éclairs.

Road trips from Marseille Saint Charles Train Station
When you arrive at Marseille Saint Charles Train Station, you're perfectly positioned to explore the best of southern France. Everything is just a comfortable drive away thanks to your car rental.

Aix-en-Provence
The charming town of Aix-en-Provence is just 35 minutes up the road from Marseille. Best known as the hometown of painter Paul Cézanne, make time to follow the trail named after him to discover where he lived, painted, ate and socialised. A meander around the farmers' market here is a must. With its enticing selection of olives, local cheeses, fresh strawberries and cured meats, it's the place to sit back and immerse yourself in local life.

Cannes
If there's one place that epitomises the glamour of the south of France it's Cannes. Just a two-hour drive from Marseille, this lively city is all about glitz and excess. Walk along the harbour and admire grand yachts before heading to the Rue Meynadier shopping area for a gastronomic treat. At the end of this street, you'll also find Marché Forville – a covered food market. The homemade cheese is a must-try.

The very finest of the south of France is yours to discover with an Avis car hired from Marseille Saint Charles Train Station. Explore as much as you desire, your way.


Driving rules in France
Which side of the road?
In France, please drive on the right side of the road.

Country driving laws
Mobile phones may only be used with a hands-free device. Do not use headphones or earpieces
Bus lanes are reserved exclusively for buses, taxis and bicycles
In towns and rural areas, on minor roads and where there is no clear indication of right of way, it may be prudent to give way to traffic coming from the right ("priorité a droite")
It is recommended that drivers use dipped headlights at all times

Speed limits

All speed signs will be in km/h.

For a standard Avis rental vehicle with no trailer:
Urban areas: 50 km/h (31 mph)
4-lane expressways (rural areas): 110 km/h (68 mph)
Rural areas: 80 km/h (50 mph)
Motorways: 130 km/h (80 mph)

Unless indicated by road signs.

Be aware of changes to speed limits displayed on road signs due to adverse weather conditions

Child safety / Seatbelt laws
It is compulsory for the driver and all passengers to wear a seatbelt
Children weighing up to 9 kg must travel in a rear-facing car seat, in the back of the car only
Children aged under 10 and weighing less than 36kg must be seated in appropriate child restraint

Please note - It is the child's parent / guardian or vehicle renter's responsibility to fit the child seat.

This road rules information is for provided for general guidance only. We endeavour to keep the information up to date and accurate, but any reliance you place on this information is at your own risk.