Welcome to Avis
Gare Sncf Lille Europe
Hall 1
Lille
59000

Opening Times
Monday

07:30 - 21:00

Tuesday

07:30 - 21:00

Wednesday

07:30 - 21:00

Thursday

07:30 - 21:00

Friday

07:30 - 21:00

Saturday

08:00 - 15:00

Sunday

14:00 - 21:00
24-hour drop-off

Lille Europe Train Station TGV car hire
We make car rental easy, because we know you can't wait to feel the freedom of the road and get the very most out of your stay. Wherever your travels take you, the keys are waiting for you to unlock the world.

Lille Europe train station serves the Eurostar, other fast trains and is on some regional routes. The station is right in the centre of Lille. We also have Avis rental stations at Lille Flandres Train station or Lille Airport if you'd prefer to meet us there.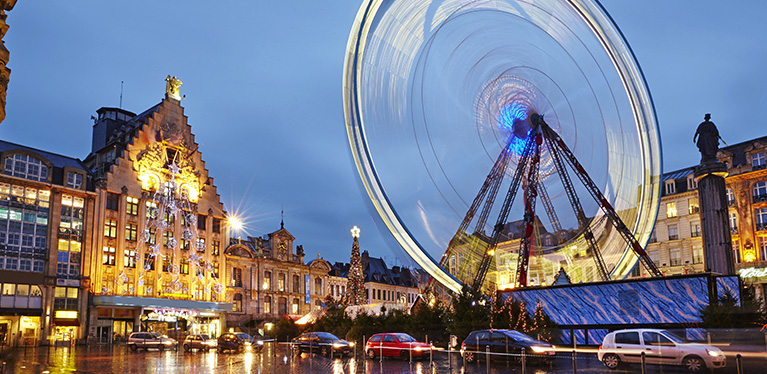 Popular car hire locations in Lille
Plan your trip from Lille TGV Station
Lille has a vast array of art museums including the Palais des Beaux Arts, which houses an impressive collection of fine arts dating back to the 15th century. The Musée d'Art Moderne, d'Art Contemporain et d'Art Brut – LaM is a wonderful contrast and displays modern works that are contemporary and at times, rather strange.

Lille is famous for its stunning parks and gardens. For a relaxing time out, locals and visitors head to the Jardin Vauban. Set over three acres, this public green space is modelled on a classic English country garden with immaculate lawns, romantic features, flowerbeds and ancient trees. Spot numerous monuments and even a waterfall.

Another popular escape to nature is the Citadel of Lille, boasting an expansive park and zoo. Located around a star-shaped 17th century fort that was built under Louis XIV's rule, this huge attraction is set over 50 hectares. The zoological gardens themselves feature hundreds of animals, including panthers, monkeys and zebras.


Road trips from Lille
Nice - and beyond
If you have time, why not take a road trip across France in your Avis hire car, stopping off at your leisure along the way. Nice is an 11 hour direct drive from Lille, and pit-stops could include Dijon, Lyon and Marseille.

Brussels - and wider Belgium
With the Belgian border around an hour's drive from Lille, it's very tempting to add another country to your road trip itinerary. Many interesting sights from the First World War lie close to the French-Belgian border, but the star attraction is Belgium's capital Brussels – just an hour and a half down the road. From the Grand Place and the Royal Palace of Brussels, to museums and beautiful parks, visitors are spoilt for choice.

Lens
Many people visit the city of Lens (just a 45-minute drive south from Lille) for the massive Louvre Lens that opened here in 2012. A regional branch of the world-famous Louvre in Paris, this art museum is located on a 20-hectare former mining yard. Sensational art works and archaeological exhibits are displayed in this ultra-contemporary complex.


Driving rules in France
Which side of the road?
In France, please drive on the right side of the road.

Country driving laws
Mobile phones may only be used with a hands-free device. Do not use headphones or earpieces
Bus lanes are reserved exclusively for buses, taxis and bicycles
In towns and rural areas, on minor roads and where there is no clear indication of right of way, it may be prudent to give way to traffic coming from the right ("priorité a droite")
It is recommended that drivers use dipped headlights at all times

Speed limits

All speed signs will be in km/h.

For a standard Avis rental vehicle with no trailer:
Urban areas: 50 km/h (31 mph)
4-lane expressways (rural areas): 110 km/h (68 mph)
Rural areas: 80 km/h (50 mph)
Motorways: 130 km/h (80 mph)

Unless indicated by road signs.

Be aware of changes to speed limits displayed on road signs due to adverse weather conditions

Child safety / Seatbelt laws
It is compulsory for the driver and all passengers to wear a seatbelt
Children weighing up to 9 kg must travel in a rear-facing car seat, in the back of the car only
Children aged under 10 and weighing less than 36kg must be seated in appropriate child restraint

Please note - It is the child's parent / guardian or vehicle renter's responsibility to fit the child seat.

This road rules information is for provided for general guidance only. We endeavour to keep the information up to date and accurate, but any reliance you place on this information is at your own risk.