Welcome to Avis
10-12 Semley Place
Victoria
London
SW1W 9QL

Opening Times
Monday

08:00 - 16:00

Tuesday

08:00 - 16:00

Wednesday

08:00 - 16:00

Thursday

08:00 - 16:00

Friday

08:00 - 19:00

Saturday

08:00 - 13:00

Sunday

09:00 - 13:00
24-hour drop-off

London Victoria Coach and Railway Station car hire
Car rental in the heart of the capital.
Our London Victoria facility provides convenient onward travel for those arriving in the city. It's also a quick and easy option for exploring the city or other areas of the UK.

Car rental branch information
Our Victoria car rental office couldn't be more conveniently located – right next door to the coach station and very close to the mainline train and Tube stations.

We're sure you'll want to spend some time enjoying the sights of the capital and with Buckingham Palace and Harrods just down the road, you couldn't be better placed. However, sometimes an escape from the city can be just what the doctor ordered.

Just an hour and a half's drive from the station, you'll find Brighton and Eastbourne on the south coast. Heading southwest on the A3 motorway, you can be in the beautiful South Downs National Park in around the same time. Heading west is also easy from Victoria – Reading is 50 miles by car and Oxford's "dreaming spires" are just 65 miles away.

The car you pick is the car you get ... with Select Series and Avis Prestige

Our curated Select Series collection is available from this car rental location. Choose from a selection of high-powered, hand-picked models.

Alternatively, take a top-of-the-range Avis Prestige car out for a road trip with high style. We stock a limited number of high-calibre Range Rovers, executive Jaguars, classic Porsches, sleek Mercedes, swift BMWs and handsome Audis.



Services and optional extras
Avis Preferred: Our customer loyalty programme rewards our loyal customers with a series of benefits. We know your time is precious and that's why we prepare your paperwork in advance. When you come to our branch, you just need to show your driving licence – we won't ask for your autograph. Sign up online before you travel – the programme is completely free.

Out-of-hours return: If you need to return your car while our office is closed, your just need to park in the NCP car park, on Level 3C, and leave your keys in the drop box near the car park entrance. It couldn't be simpler.

Optional extras

Breakdown assistance: A breakdown in one of our vehicles is highly unlikely but our breakdown assistance service means you can tackle any journey worry-free.

Child seats: If you're travelling with children, make sure you book child seats when you reserve your vehicle.

Satellite navigation: Driving in London can take a bit of getting used to, but with our satellite navigation system it needn't be stressful. Make sure you're on the right road from the word go by requesting this service when you make your booking.


Popular car hire locations around London
Don't forget the London Congestion Charge
This hire station is just on the outskirts of the London Congestion Charge zone.

Drivers in central London between 7am and 6pm on Monday to Friday (look out for the Congestion Charge signs) have to pay the charge on a daily basis. The official site has maps and details on how to pay the charge.

We can process the payment on your behalf for the first day of your hire, so you have more time to relax and enjoy the journey. Just let us know when you collect your car.

Dartford Crossing

Passing through the Dartford Tunnel? Please note that the small toll charge can no longer be paid at the barriers; drivers must pay online in advance or by midnight the following day. This site explains the payment system in more detail.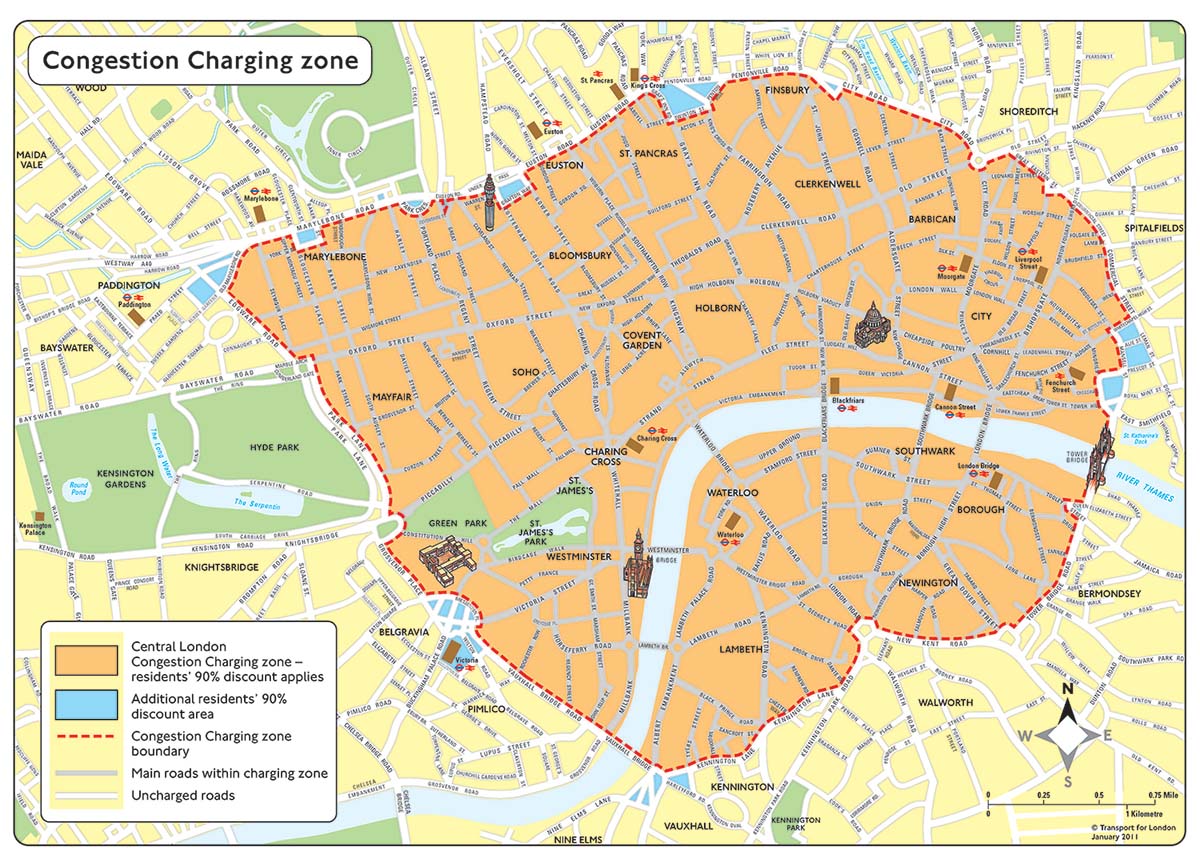 Driving rules in the United Kingdom
Which side of the road?
In the United Kingdom, please drive on the left side of the road.

Country driving laws
Mobile phones may only be used with a headset or hands-free device
Use the outside lane to overtake on motorways and dual carriageways
There is a congestion charge payable when driving in London
Zebra crossings (black and white stripes on the road) give pedestrians right of way to cross the road

Speed Limits
All speed signs will be in mph.
For a standard Avis rental vehicle with no trailers:
Urban areas: 30 mph (48 km/h)
Rural areas: 60 mph (96 km/h)
Motorways: 70 mph (112 km/h)
Unless indicated by road signs.

Child safety / Seatbelt laws
It is compulsory for the driver and all passengers to wear a seatbelt
Children aged under 12 or less than 135cm tall must be seated in an appropriate child restraint for their size
Please note - It is the child's parent / guardian or vehicle renter's responsibility to fit the child seat.

This road rules information is for provided for general guidance only. We endeavour to keep the information up to date and accurate, but any reliance you place on this information is at your own risk.